Chile: Indigenous women ride to rescue Patagonia valley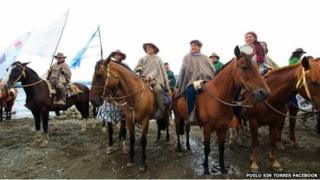 Indigenous women from Chile and Argentina are riding to the rescue of their pristine Patagonia valley, saying plans to build a dam and a river generator there must not be allowed to proceed, it has been reported.
About 40 Mapuche women undertook an arduous five-day journey by horseback from the Puelo Valley that spans the border, to Puerto Varas, a tourist town in southern Chile. They say the projects could flood 12,350 acres (4,997 hectares) of land, some of which is in Argentina.
The cross-border group Mujeres sin Fronteras (Women Without Borders), who organised the protest, say the rights of indigenous people and international rules on shared river basins should be observed. Leader Maria Isabel Navarrete told a crowd: "We are protecting our natural resources from large corporations. We want the authorities to know our way of life, that we live free from pollution of our waters and without pylons," the Santiago Times newspaper reports.
The river projects would be run by Endesa, a subsidiary of Italian utility Enel, and Chile-based Mediterraneo. The Argentine newspaper Rio Negro suggests Chile's Los Lagos regional government might be trying to push through a vote on the projects before President-elect Michelle Bachelet takes over in March.
Use #NewsfromElsewhere to stay up-to-date with our reports via Twitter.