Malaysia: First fossil find a 'Spinosaurid tooth'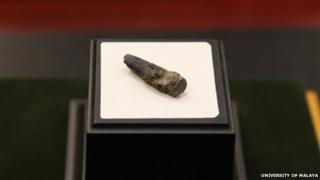 Experts have unveiled Malaysia's first ever dinosaur fossil after nearly two-years of digging, it's been reported.
The find is a 75 million-year-old tooth. Less than an inch long, it is thought to have belonged to a fish-eating predator - a member of the spinosaurid family of dinosaurs, Australia's SBS public service broadcaster reports.
It was found in the central state of Pahang but the exact location is being kept secret to prevent "lawless excavations by private fossil collectors or robbers". Scientists are also hoping are are more such discoveries to be made.
"We currently continue further research and hope to conduct more extensive field investigations that may disclose more significant finds," a statement from the University of Malaya said. The dig was conducted by scientists from the University of Malaya and Japan's Waseda and Kumamoto Universities.
Use #NewsfromElsewhere to stay up-to-date with our reports via Twitter.