Indonesia: Rising sea 'threatens 1,500 islands'
By News from Elsewhere...
...as found by BBC Monitoring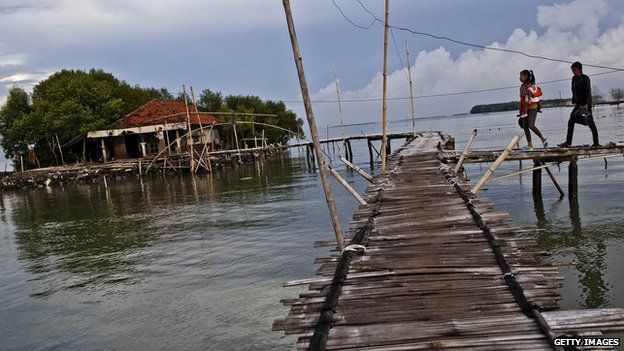 As many as 1,500 of Indonesia's islands could be under water by 2050 because of rising sea levels, it's been reported.
In the capital city, Jakarta, the main international Soekarno-Hatta Airport could be below sea level as soon as 2030, with outlying districts turned into lakes, says Singapore's Straits Times, quoting a report from Maplecroft's Climate Change Vulnerability Index.
"This archipelago's biggest threat is rising sea levels, where 42 million people living 3km from the coast are vulnerable," Ancha Srinivasan of the Asian Development Bank says.
Twenty-four islands have already disappeared off the coast of Aceh, North Sumatra, Papua and Riau, according to official research, and experts are worried this trend could accelerate. Indonesia comprises around 17,500 islands, of which approximately 6,000 are permanently inhabited.
What's more, rising acidity in sea water is causing supplies of fish to dwindle. Fish have moved further out to sea, depriving communities of once-secure fishing stocks. "It may be a small change, but has a significant impact on marine ecosystems and fish spawning habits," Ancha Srinivasan told the paper.
Use #NewsfromElsewhere to stay up-to-date with our reports via Twitter.