Argentina: Buenos Aires sued over CCTV on city icon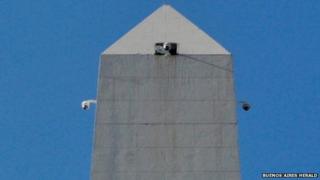 In Buenos Aires, people are taking the city to court for putting CCTV cameras on top of a national monument, it appears.
Police say the four cameras on the 67.5m (221ft) Obelisk will help them watch traffic in Plaza de la Republica, at the intersection of two of the city's main thoroughfares, the Buenos Aires Herald reports.
But at least one political group - the Corriente Unidad Sur - says they could also be used to watch people, since the Obelisk is a focal point for political protests, social gatherings and city nightlife.
"There is no difference between installing these cameras and cops watching us with binoculars 24 hours per day from the dome," activist Andres Perez Esquivel tells the ANDigital news website. "It distorts the cultural character of the Obelisk, which commemorates our national flag, as a symbol of unity and solidarity."
Perez Esquivel, the grandson of Nobel Peace Prize winner Adolfo Perez Esquivel, is also lobbying for the authorities to publish a map locating 2,000 cameras in the city, the Ambito website reports.
Use #NewsfromElsewhere to stay up-to-date with our reports via Twitter.