India: Launch of 'pro-corruption' party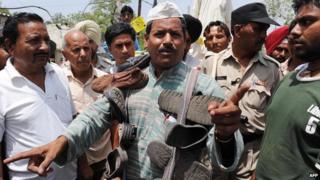 An independent politician is planning to contest the forthcoming general elections in India on a "pro-corruption" ticket, it appears.
Lawyer Naresh Singh Bhadauriya has registered the Khas Aadmi Party (Khap) - or Special Man's Party - in the Indian state of Uttar Pradesh, where the vice-president of the ruling Congress Party, Rahul Gandhi, is also running.
Bhadauriya launched his campaign by marching through the streets of the city of Amethi with a large banner that said: "Only the corrupt, schemers, fraudsters, etc are eligible for membership," Indian media report, quoting the PTI news agency.
Bhadauriya said his party would forge a coalition with "any political outfit" other than the anti-corruption Common Man's Party (AAP). "The ideals and principles of Khap match those of others, except AAP," he says.
On a more serious note, the politician told PTI he was trying to put the spotlight on corruption. "Election results are immaterial for me as I am not in the fray to win, but to attract the electorate to the burning issues," he explains.
Bhadauriya is known for his unusual style of campaigning. Two years ago, as the leader of the Pol Khol (Revealing Secrets) Party, he went to register for local elections riding a funeral bier, and in 2009 campaigned with a garland of shoes around his neck.
Use #NewsfromElsewhere to stay up-to-date with our reports via Twitter.