Vatican: Holy Father uses unholy word by accident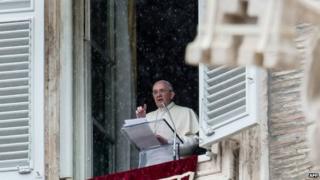 In an accidental slip of the tongue, Pope Francis uttered an Italian swear word during his weekly blessing in St Peter's Square in the Vatican on Sunday.
While delivering his speech in Italian, instead of saying "caso", the word for a case or example, the Pope said "cazzo", which is a swear word. He quickly corrected himself, but several videos of the gaffe were soon circulating on YouTube.
"If each one of us does not amass riches only for oneself, but half for the service of others," the Pope said just before the slip-up. But he immediately paused and repeated the phrase correctly. "In this case, the providence of God will become visible through this gesture of solidarity."
The blunder does not seem to have prompted a malicious response, with most people saying he should be forgiven. "Even the Pope does Mistakes," read the title of one of the uploaded clips.
Fortunately, the episode did not overshadow the message of the blessing. The Pope asked for prayers for Ukraine and called on the international community "to support any initiative for dialogue and harmony", the official website of the Holy See reports.
Use #NewsfromElsewhere to stay up-to-date with our reports via Twitter.