Pakistan: Onion heroin smuggling plot uncovered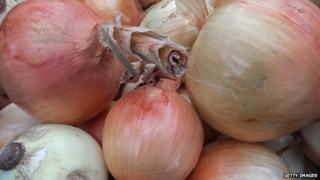 Criminals in Pakistan have been caught allegedly trying to smuggle heroin inside hollowed-out onions in an attempt to thwart sniffer dogs, it's been reported.
Security forces in Karachi uncovered the plot when they raided a home in the city and seized 61.5kg (135lb) of "high quality" drugs, which they valued at 43m rupees (£250,000), The Nation newspaper said. Five suspects were arrested.
According to the country's Anti-Narcotics Force and the Interior Ministry's Pakistan Rangers troops, who carried out the operation, the gang were hollowing out onions, inserting capsules of heroin, then capping the onions with glue. The smugglers apparently confessed that the smell of the onions would hopefully prevent sniffer dogs from detecting the drugs, Pakistan Today says. In the end, the gang were apprehended following a surveillance operation.
Drug smuggling and narcotics abuse remains a significant problem in Pakistan. In December, it was reported that there an estimated one million heroin users in the country, with cheap opium from neighbouring Afghanistan making the drug readily available.
Use #NewsfromElsewhere to stay up-to-date with our reports via Twitter.