Altered Images: Photo raises Malaysia religious tensions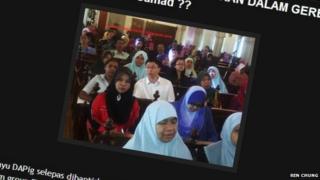 A photograph of Malaysian men and women attending a conference in what looks like a church has apparently been used to illustrate claims that they were Muslims who had just been baptised into the Christian faith.
The image shows a number of people, including human rights activist Yu Ren Chung, sitting in pews at a 2012 event held by the International Institute of Islamic Thought and Civilization in Kuala Lumpur. What was passed off as a church was, in fact, the main hall at the city's International Islamic University, the Malaysiakini news website reports.
The inflammatory use of the image comes at a time of increasing religious and racial tensions in Malaysia, where the Catholic Church is at loggerheads with the government over the right to use the word "Allah" to describe the Christian God.
According to Yu Ren Chung, investigations have traced the misuse of the image to a single blogger whose post was picked up by other blogs in Indonesia. Authorities are now investigating the issue, The Malay Mail says.
Malaysia has harsh laws forbidding apostasy - the renunciation or abandonment of religion. The misuse of the picture has been described by one Islamic group as a "despicable act" which caused "shame and distress" for some of those photographed.
Use #NewsfromElsewhere to stay up-to-date with our reports via Twitter.