Canada: Tax breaks to support Moose Sex Project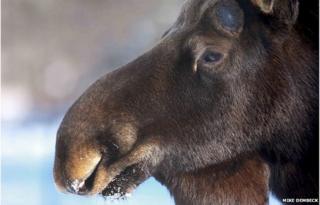 Canada is offering tax incentives to supporters of the Moose Sex Project - an initiative to build a land corridor connecting endangered moose with other herds to increase their numbers.
There are fewer than 1,000 moose left in the Canadian province of Nova Scotia, and human activity has made it difficult for animals to migrate, Andrew Holland of the Nature Conservancy of Canada tells the BBC. But a land bridge would mean that about 29,000 healthy moose from neighbouring New Brunswick could move in and replenish the gene pool.
The charity is trying to join up some 20,000 acres of private and Crown land spanning the narrow, environmentally sensitive Chignecto Isthmus - which connects Nova Scotia to the rest of America. Donors benefit from the country's tax-efficient Ecological Gifts Program by giving "strategic parcels of land" to allow the animals to move freely, Holland adds.
It's not just moose that would benefit from the corridor. Canadian lynx, bobcat and northern goshawk could also use the land bridge between the country's maritime provinces, broadcaster CBC reports.
Use #NewsfromElsewhere to stay up-to-date with our reports via Twitter.