Altered Images: Iran poster links EU diplomat and gas attack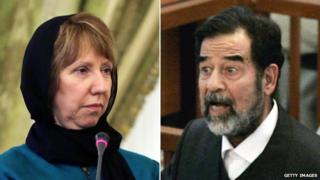 Billboards splicing together the faces of Saddam Hussein and the EU's top diplomat alongside disturbing images of a notorious chemical attack have appeared around Tehran, the Iranian capital, it seems.
The posters have appeared days before the anniversary of the 1988 Halabja chemical attack. They openly criticise Catherine Ashton for her perceived meddling in Iranian affairs, the Tabnak news website says. The EU's high representative for foreign affairs met human rights activists on a recent visit to Tehran.
Images of two different billboards appeared in Tabnak's coverage. Baroness Ashton's face has been superimposed onto that of former Iraqi leader Saddam Hussein, who was executed in 2006. They are shown beside photos of the chemical attack carried out by Iraq against Kurdish civilians in the closing days of the Iran-Iraq war.
The posters also draw attention to Iran's so-called nuclear martyrs - scientists who were reportedly assassinated for working on the country's nuclear programme. A cult of personality has been built around them by conservative factions in Iran.
Another newspaper, Qanun, asks why the posters were allowed to be put up. "It is only Tehran municipality, among all cities, that considers itself as having the right to express its ideas on politics," it says.
Lady Ashton, who is involved in negotiations over Iran's nuclear programme, is no stranger to photo manipulation. In the past, Iranian media have retouched photos to make her outfit less revealing, and censored footage of her embracing male diplomats.
Use #NewsfromElsewhere to stay up-to-date with our reports via Twitter.