China: Ancient coffin 'rescued' from tomb raiders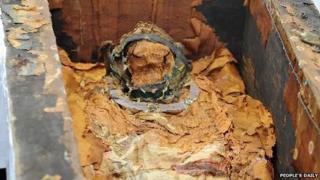 Chinese archaeologists have "rescued" an ancient coffin from tomb raiders trying to break in to a grave site via a 10m (33ft) hole, it appears.
The 1,500-year-old, pinewood coffin was found in a tomb in pasture land in the northern Inner Mongolian region and dates from the Northern Wei Dynasty between the years 386-535 AD, the China Daily newspaper reports. Inside, scientists found the remains of what appears to be an aristocratic woman, wearing silk clothing, fur boots and a metal headband.
The well-preserved remains will enable archaeologists to study the funeral customs of the Xianbei nomadic groups who lived in northern China at that time, experts told Chinese media. Hair samples will also allow forensic analysis of the woman's age and diet. The area appears to be an important burial site for aristocrats of that period.
Illegal excavations of ancient grave sites has been a persistent problem in China. There have even been reports of tomb raiders using explosives to access historical treasures.
Use #NewsfromElsewhere to stay up-to-date with our reports via Twitter.