India: Widows break with tradition and celebrate Holi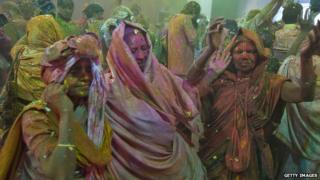 Widows in the Indian city of Vrindavan are joining in the city's colourful celebration of the springtime festival Holi for the first time, it appears.
More than 1,000 women came for the festivities, the Times of India reports. The widows played games smearing coloured water and powder dyes on each other - a break from previous years when they would only sprinkle flower petals.
"I held a pichkaari [water gun] today after years. I just didn't want to stop," says Kakoli Mundal, a widow originally from the state of Bengal. Vrindavan is considered to be a holy city in India and attracts many widows. But they are often marginalised in Indian society, and do not traditionally participate in the festival.
A charity, called Sulabh, helped organise the games, saying the event was a form of protest for the widows. "They want to be treated as human beings and allowed to live their lives the way they want," founder Bindeshwari Pathak says.
Holi is a festival of colours that marks the beginning of spring, and is associated with the Hindu god Krishna.
Use #NewsfromElsewhere to stay up-to-date with our reports via Twitter.