Belarus: Police stage cycle crash in road safety campaign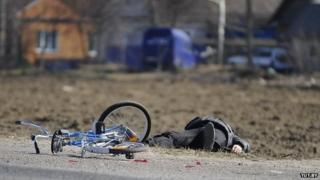 The fake body of a dead cyclist has been left on the side of a dangerous stretch of road in Belarus as part of a police safety campaign, it appears.
The scene was set up to look like a hit-and-run, with a mangled cycle and tyre tracks left near the dummy. But officers found only nine people stopped out of 186 cars that drove past, news site Tut.by says. Occasionally, an officer posed as a concerned passer-by, to flag down drivers for help. "Sometimes this worked," the website reports.
Among those who stopped were a couple who offered to drive the the mannequin to hospital, telling officers they were not worried about getting blood on their back seat. "Human life is precious, and you can always wash your seat covers," driver Grigory Yevgenievich reportedly said.
Another person reversed back after realising what he had seen, and five others reported the incident to the next traffic checkpoint. Everyone who stopped received a gift of a licence-plate frame and calendar.
A local traffic official said the Don't Look the Other Way! campaign was launched because the road north-west of the Krasnoye had a lot of lorry traffic, and the risk for cyclists was "unfortunately pretty high".
Use #NewsfromElsewhere to stay up-to-date with our reports via Twitter.