Ukraine: Army raises $1m via text appeal for funds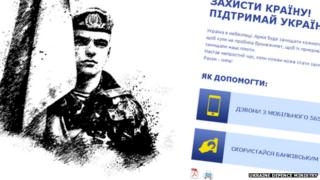 Ukrainians have donated over one million dollars to the country's impoverished armed forces, after the Ministry of Defence set up a telephone appeal for funds, it seems.
The ministry's official Facebook page says: "Support the Army of Ukraine! Citizens' campaign to help the Armed Forces of Ukraine with material, technical and medical supplies." People donated some 9.9m hryvnyas ($1m; £611,000), a proportion of which coming from their mobile phones in less than three days, the ministry says.
The appeal asked people to text 565 to automatically transfer 5 hryvnyas to the fund. According to ministry figures, more than half of the money was pledged by individuals, but Ukrainian businesses also sent significant amounts.
Acting President Oleksandr Turchynov recently said only 6,000 troops are combat-ready due to a lack of funding.
The campaign has also been hijacked by internet mischief-makers trying to trick Russians into messaging the same number.
Hoax campaigns urge ethnic Russians to "help the liberators of Crimea" from the so-called brown plague - Ukraine - by texting 565 from a Ukrainian-network mobile. They claim the money would buy "food, socks, mobile shower units" for the pro-Russian forces in the region. It's not known how many people - if any - have fallen for the joke.
Use #NewsfromElsewhere to stay up-to-date with our reports via Twitter.