South Korea: Meteor shower sparks frantic hunt for debris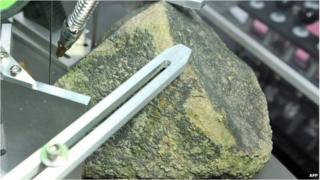 Hundreds of people are feverishly searching for valuable space rocks after a rare meteor shower in South Korea last week, it seems.
Two black rocks, weighing 9kg (20lbs) and 4kg were confirmed as chondrites - part of a meteor - by the Korea Polar Research Institute (Kopri), triggering a wider search for debris in the southern town of Jinju, Korea Joongang Daily reports.
People have been searching the hills and rice paddies with GPS equipment and metal detectors, media reports say. "Because it is suspected that a meteorite divided in the atmosphere into more than two pieces, it is still possible that more meteorite [debris] will be discovered," a Kopri scientist says.
Meteor shards can fetch large sums of money. Using standard international rates of $5-10 (£3-6) per gram, the heavier chondrite could be worth as much as $90,000, the Joongang Daily says. There are reports an American man has been handing out business cards to meteor hunters, telling them he wants to buy any fragments they find.
But this has raised fears the precious rocks could be taken overseas. One official from Korea's Cultural Heritage Administration says the country might designate meteor discoveries as "monuments" so they cannot be taken away.
Use #NewsfromElsewhere to stay up-to-date with our reports via Twitter.