Indonesia: Anti-porn minister in Twitter 'accident'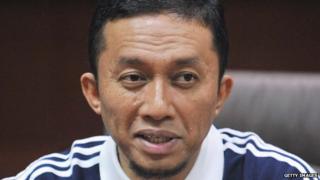 Indonesia's communications minister, who has campaigned against pornography, has caused an uproar on social media after he followed a Twitter porn account "by accident", it appears.
Tifatul Sembiring started following the seemingly inappropriate account on Monday and it was quickly noticed by social media users, who began poking fun at the minister, the Jakarta Post reports.
Many tweets used the acronym PSK - a reference in Indonesia for commercial sex workers - as Twitter users jested about "accidentally" mis-typing the initials of Sembiring's Islamic Prosperous Justice Party, known as the PKS.
But Sembiring says the account was brought to his attention so he could block it, and has denied perusing the content. "I accidentally pressed the 'follow' button," the minister explains. "That often happens with touch-screen gadgets."
He has now suggested anyone wanting to report pornographic content gets in touch with one of his colleagues instead of contacting him directly.
The communications minister is one of Indonesia's most prolific tweeters, with about 732,000 followers. One website, which analyses activity on Twitter, says every 100 tweets from Sembiring gets retweeted about 4,570 times.
Use #NewsfromElsewhere to stay up-to-date with our reports via Twitter.