China: Children make eggs 'stand up' in spring festival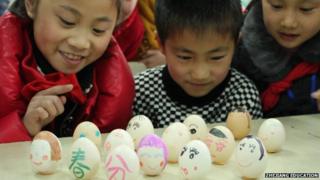 Children around China have been participating in games trying to make eggs "stand up" as part of traditional celebrations of the first day of spring, it's been reported.
In preparation for the vernal equinox, which is celebrated in China as part of the solar calendar, children decorate eggs and mark the day itself by trying to balance them, China Daily reports.
On the vernal equinox, the centre of the sun passes directly over the equator. Legend has it that the solar alignment makes the equinox one of the only moments in the year when an egg can stand on its head.
Around the world, different societies have been marking the start of spring with traditional festivities. In parts of the Middle East and Central Asia the celebrations are known as Nowruz, and in Japan it is marked by readings of haiku - or short poems.
Use #NewsfromElsewhere to stay up-to-date with our reports via Twitter.