Egypt: Muhammad Khan earns citizenship after years of waiting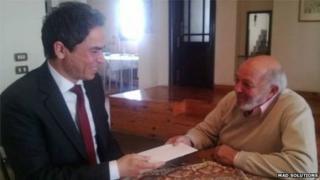 A well-known film director who was born in Cairo has been granted Egyptian citizenship after being denied for years.
Muhammad Khan, 72, received his new nationality at home, when presidential media adviser Ahmad al-Muslimani delivered a presidential decree. Khan was born in Cairo to an Egyptian mother and Pakistani father, and has lived there since the 1960s. But until 2004, Egyptian citizenship could only be inherited from one's father.
"The most difficult moment I face is when I present my British passport in Cairo airport," Khan tells the BBC. "When the staff member ask me about my nationality, I do not know what should I say and I reject such a question. I am an Egyptian." But Khan has used a British passport all these years.
Khan's films include Al-Harif (Street player, 1984), Zawjut Rajul Muhum (Wife of Important Man, 1987) and Ahlam Hind wa-Camilia (Dreams of Hind and Camilian, 1988).
Use #NewsfromElsewhere to stay up-to-date with our reports via Twitter.