Germany: Fifteen flamingos found dead at Frankfurt zoo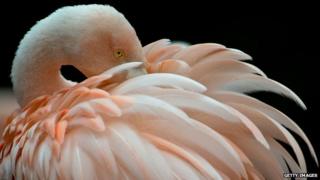 The mysterious killing of 15 flamingos at Frankfurt Zoo has shocked staff and puzzled police, it appears.
The birds were killed over two consecutive nights, with their bodies found on Friday and then Saturday. Some had their heads cut off or torn off, while others were stabbed to death, reports Frankfurter Allgemeine Zeitung.
Zoo director Manfred Niekisch calls this a "shocking incident" and staff are "speechless". It is not clear who or what killed the birds, but stab wounds suggest it was done by humans. Police have referred to "one or several previously unknown perpetrators" and Niekisch believes animals such as foxes or raccoons could have played a role.
Strangely, very little blood was found at the scene. Police say they are considering whether the birds were stolen from the zoo and killed, before their bodies were returned. In 2007, three flamingos at the same zoo died in a similar manner. The seven-year-old case is still unresolved.
The flamingo killings in Frankfurt leave the German media guessing. "Who would do such a thing?" asks Die Welt daily. "Psychopaths? Was it a completely out-of-order test of courage among young people? Or was it Satanists?"
Use #NewsfromElsewhere to stay up-to-date with our reports via Twitter.