Brazil: Internet 'bill of rights' approved in key vote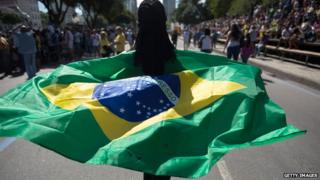 A pioneering bill protecting individual rights and freedoms on the web has been approved by Brazil's Chamber of Deputies, in what is being seen as a significant step towards becoming law.
Known as the Marco Civil - or Bill of Rights - it would enshrine freedom of expression, the right to privacy and the principle of web neutrality. The measure must still be approved in the Brazilian Senate before it can be signed into law, the Latin Post news website reports.
Supporters of the bill are celebrating the development. "Oh my God, I'm so, so happy," says Carolina Rossini, project director at New America Foundation, who has campaigned for Marco Civil for many years. "Last night I had a whole bottle of wine by myself," she tells the Daily Dot website, which covers internet-related news.
The Marco Civil bill was first officially drafted in 2009, and went through a long process of approval and consultation with web users, telecom companies and government agencies, the Latin Post says.
Reports say the bill's most important clause protects net neutrality - which would require internet service providers to treat all data equally and not set higher or lower speeds for different internet content or services. It also guarantees freedom of expression online, better protection of personal data and implicitly limits central control of the internet, they say.
The inventor of the world wide web, Sir Tim Berners Lee, says the bill "ushers in a new era", where citizens' rights are protected by digital bills of rights. In a statement issued on the eve of the vote on 25 March, Sir Tim called Marco Civil "the best possible birthday gift" for the web's 25th anniversary in 2014.
Use #NewsfromElsewhere to stay up-to-date with our reports via Twitter.