Russia: Chechnya football club hires player with cancer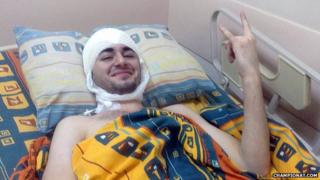 A young man with brain cancer has reportedly been hired by Chechnya's main football club, apparently after the leader of the Russian region became sympathetic to his case.
Chechnya's regional strongman Ramzan Kadyrov, also honorary president of the Terek Grozny football club, says he could not "stay away" after learning of Grigory Simonyan's illness. Kadyrov says on his widely-followed Instagram account, he told the club to pay for the 18-year-old's cancer treatment.
"After Grigory is cured - God help us - he will start playing for Terek," Kadyrov writes. Soviet Sport, a major sports newspaper in Russia, says Simonyan will have a medical check-up in Germany to decide the course of treatment as soon as his contract is signed.
Simonyan's case has been well publicised in the Russian media. Earlier, the Championat sports news website said he was diagnosed in September and underwent an operation shortly afterwards. It also tried to raise 5 million roubles (140,000 dollars or 84,000 pounds) for further treatment.
Terek Grozny is currently 13th in the Russian Premier League. In 2011, the club hired Ruud Gullit, formerly a Dutch football star and Chelsea FC coach. But he was sacked five months later, after Kadyrov warned him over the club's poor performance.
Use #NewsfromElsewhere to stay up-to-date with our reports via Twitter.