Pakistan: Police crackdown on kite flyers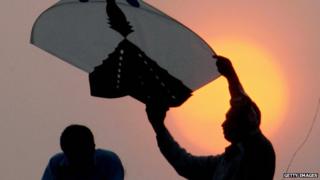 Police in the Pakistani city of Faisalabad have arrested dozens of kite-flyers and seized thousands of kites in March, it's been reported.
Parents have been asked to stop their children from kite flying, as the popular pastime is now "totally banned" in the district, the Associated Press of Pakistan news agency reports.
Kite flying has apparently been banned in the province of Punjab for the last four years. The ban was imposed because of the number of people who were said to have died in accidents caused by the sharp thread used for flying kites, Dunya News TV says.
The thread is often coated with abrasive material, such as crushed glass mixed with rice glue, to cut the strings of other people's kites, according to the odditycentral.com blog.
But the ban has also been linked to extremist groups who oppose the Basant spring festival traditionally associated with kite flying. Last year, a plan to revive kite flying in Punjab during Basant was dropped after the Jamat-ud-Dawa group said the festivities were un-Islamic, the Indian Express newspaper reported.
Use #NewsfromElsewhere to stay up-to-date with our reports via Twitter.