France: Nine-hour show of man walking backwards airs on TV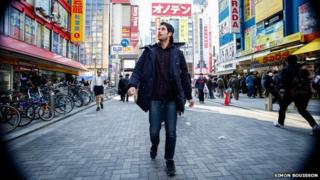 A French public TV channel is broadcasting a nine-hour programme of a man walking backwards through Tokyo - and nothing else - it appears.
A trailer of the film, Tokyo Reverse, follows a man as he walks through the streets of Japan's capital, but with a twist: Ludovic Zuili, 28, is walking backwards for the entire programme, the newspaper Le Monde reports. The concept has been called Slow TV and has already been hailed as a "small revolution" for French viewers.
The film, to be aired by France 4 on 31 March, is shown back to front so Zuili seems to be walking normally through a world moving back in time. To make his movements seem natural, he took dance classes, Le Monde journalist Veronique Lorelle says on her blog.
Slow TV is a genre of marathon programming in which an ordinary event is filmed, often live, in its entirety. In Norway, more than half the country tuned in to watch a six-day ferry journey through the fjords. A burning log fire and knitting were previous Slow TV subjects.
Fans say it gives viewers a chance to get deeply interested in details which might otherwise be missed in a world all about speed. "Long live French-style Slow TV!" Lorelle writes.
Use #NewsfromElsewhere to stay up-to-date with our reports via Twitter.