Indonesia: Bali 'quiet' as Hindus mark day of silence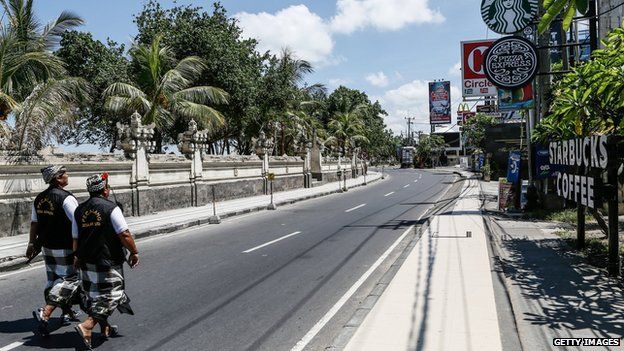 Tourist areas and economic centres usually bustling with activity on the Indonesian island of Bali were deserted on Monday, as its Hindu population observed a day of silence, it appears.
Foreign tourists were required to stay in their hotel compounds, and the island's airport as well as sea ports were closed, the Jakarta Post newspaper says. Campaign rallies for the legislative election on 9 April were also reportedly put on hold.
Nyepi marks the start of a new year according to the Balinese lunar calendar. Nobody works or travels, as it is traditionally a day of introspection and fasting. A special group of guards are usually the only people out on the streets - making sure everybody else stays at home.
But this year, two tourists were apparently found walking near their hotel early in the morning. Claiming they did not know the rules, they were "only reprimanded", the newspaper says.
Nyepi is "perhaps the most important of the island's religious days and the prohibitions are taken seriously", the indo.com website says.
Use #NewsfromElsewhere to stay up-to-date with our reports via Twitter.