Ukraine: 'Darth Vader' presidency bid rejected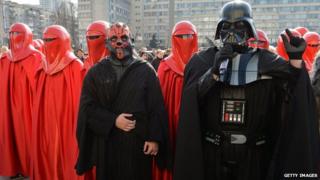 Ukrainian authorities have rejected a bid from a man calling himself Darth Vader, who wants to run in the presidential elections.
The man, who appears in the costume of the fictional character from the Star Wars films and is often accompanied by people dressed in other Star Wars outfits, was nominated for the presidency by the Internet Party of Ukraine. Earlier he told the party's congress that he wanted to turn Ukraine into "a galactic empire".
But the country's Central Electoral Commission says parts of Darth Vader's application were "questionable" and some paperwork was probably forged. Apparently, the man is really an electrician called Viktor Shevchenko, who changed his name to Darth Vader in March.
But at least one commission member suggests Darth Vader's campaign could be an attempt to discredit the upcoming election - possibly by Russia, which does not recognise the Ukraine's interim government. "It may seem like an innocent joke, but someone paid 2.5m hryvnyas ($227,000) for this joke," says Ihor Zhydenko, referring to the deposit that must be given along with the application.
Zhydenko adds that Darth Vader might run for the presidency in Russia, where he has received extensive media coverage. "They already have little green men," he says, referring to Russian troops in the Crimea region. "Such a commander-in-chief would be appropriate."
Twenty-three candidates have been registered to run in the snap presidential election in Ukraine on 25 May. The election was called after President Viktor Yanukovych was ousted following months of protests.
Use #NewsfromElsewhere to stay up-to-date with our reports via Twitter.