Italy: PM on TV for nearly five hours a day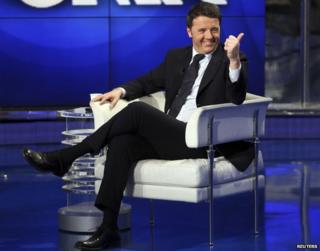 Italy's new prime minister apparently has made so many media appearances in recent weeks that the Italian press are talking about Matteo Renzi's "occupy TV" strategy.
Between 17 and 31 March, Renzi was on Italian TV screens for an average of nearly five hours a day, La Stampa newspaper reports. Renzi's total appearances across TV channels was close to 70 hours, it adds.
The media blitz reportedly includes some 51 hours of news bulletin time given over either to Renzi's speeches (22 hours), or news reports about him and his work as prime minister (29 hours). In addition, Renzi spent more than 17 hours as a guest on Italian political talkshows, especially in the evenings.
A media expert tells the paper that it's no surprise that Renzi is the "unique propagandist" of his government, given that he's promised the country a dynamic and swift programme of reform very much based on his youthful, can-do political image.
Use #NewsfromElsewhere to stay up-to-date with our reports via Twitter.