Falklands: Residents mock Argentina's 'Nato base' claim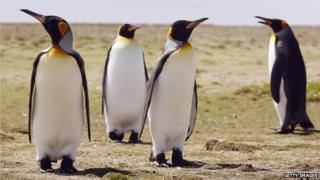 Residents of the Falkland Islands have ridiculed claims from the Argentinian president that nuclear weapons were deployed in the area, joking that they were in fact penguins, not missiles.
Marking 32 years since the Falklands conflict with the UK at a ceremony at the Casa Rosada presidential palace, Cristina Fernandez de Kirchner said the islands had been turned into a nuclear base for Nato, state-run news agency Telam reports. "This is the truth that they cannot continue to hide," she said.
In response, a group supporting residents of the Falklands tweeted a picture of King Penguins native to the islands. "Argentina recently intercepted this pic of our 'nuclear missiles.' - They turned out to be penguins," said the caption.
Britain has also denied Argentina's claims, saying they are "wholly false".
Use #NewsfromElsewhere to stay up-to-date with our reports via Twitter.