Belgium: EU politicians in rap battle for youth vote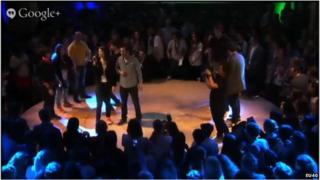 Members of the European Parliament have held a rap battle to engage youth voters in forthcoming elections, it appears.
Four teams, each made up of politicians and a professional freestyle hip hop artist, took to a stage in Brussels to discuss issues that they say matter to young Europeans - though rap. The teams represented the major European parties - the European People's Party (centre-right), the Socialists and Democrats, the ALDE (liberal) and the Greens.
"Vote for the EPP if you want money!" said the European People's Party at the start of round one, while the Greens rebutted: "It's not all about money, it's real political decisions." Over three rounds of minute-long raps, the MEPs went back and forth on issues ranging from Europe's borders and migration, to innovation and technology.
The European elections are due to be held on 22-25 May. Voter turnout in European elections has been decreasing over time, with just 43% of people turning out for the poll in 2009.
Use #NewsfromElsewhere to stay up-to-date with our reports via Twitter.