Ukraine: Doctored 'Kiev Hitler poster' tweeted in Russia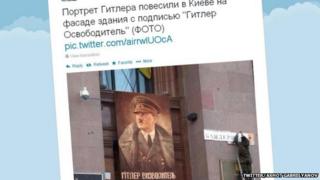 A doctored photo of an Adolf Hitler poster hanging from Kiev's city council building has been circulated by the head of a Russian TV station, apparently to suggest the prevalence of neo-Nazism in Ukraine.
"A portrait of Hitler has been put up on a building in Kiev, captioned 'Hitler the liberator'," tweeted Ashot Gabrelyanov, the chief of Life News TV. But the poster does not appear to have been seen by people in Kiev.
The image was circulated in February by Pravdivaya Pravda, an anti-West Twitter account based in Moscow, and retweeted by Konstantin Rykov, a pro-Kremlin media mogul. Both insisted the picture was not a fake, but the re-appearance of the photo has triggered more allegations of forgery.
"Ashot, this photosopped pic is several months old," said one user, while another tweeted what looks like the original photograph of the Kiev city council offices with a poster of Stepan Bandera on it. Bandera was a Ukrainian anti-Soviet resistance leader during and after World War II, but he is also accused of collaborating with the Nazis.
Later, the portrait of Bandera was replaced with a less controversial one of Ukraine's national poet Taras Shevchenko.
Russian media rhetoric on Ukraine has been belligerent amid fears of a full-blown military conflict following the ouster of President Viktor Yanukovych by pro-EU demonstrators. The activists have been called nationalists, neo-Nazis and radicals by both the media and Kremlin officials, who say Moscow has a duty to protect Russian speakers in Ukraine.
Use #NewsfromElsewhere to stay up-to-date with our reports via Twitter.