Russia TV stations air 'impostor' protester in two guises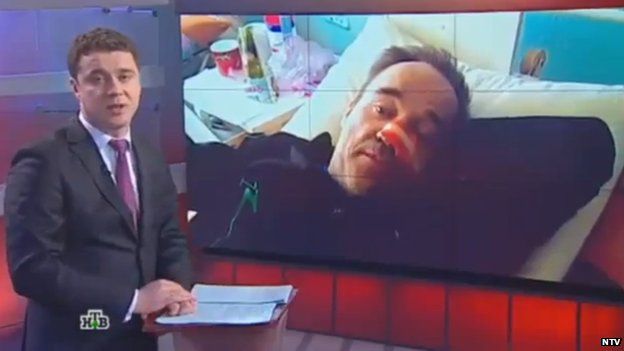 A man who says he was injured in ongoing protests in Ukraine seems to have appeared on two Russian TV channels claiming to be two different people - a pro-Russia activist in one report and an anti-Russia protester in another.
In the first clip, aired on the state-run Rossiya 1 channel on Wednesday, a man calling himself Andrei Petkov is seen in a hospital bed complaining Ukrainian extremists attacked him and other peaceful protesters. One assailant demanded he remove his Russian St George's ribbon "before a bunch of girls chased him away", the man says.
But on the same day NTV, owned by Russia's Gazprom gas monopoly, showed a clip of what seems to be the same man - but with the slightly different name of Andrei Petkhov - saying he's a German citizen funding a training camp for radical right-wing anti-Russia activists. He seems to be wearing the same jersey and has the same bandaged nose in both reports.
It has caused a stir on social media, with some people suggesting the man might be an actor. "This is priceless!" says one comment on VKontakte, Russia's equivalent to Facebook. The writer adds: "Do you still believe the news on Russian TV?" But Russian bloggers were unimpressed. "A carnival on ice" is how Rustem Adagamov reacted. "They didn't even bother to change the decor". Meanwhile, Marat Guelman says: "I don't know what to say. It's funny, of course, but at the same time so shameful that I don't want to believe it's true".
Use #NewsfromElsewhere to stay up-to-date with our reports via Twitter.