Shaolin monks seek 10,000 calligraphers to copy texts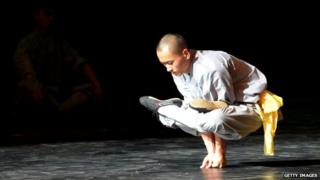 The monks of China's Shaolin Temple have called for 10,000 calligraphers to come and help them copy Buddhist scriptures by hand, it appears.
The temple, which was the birthplace of the Kung Fu martial arts discipline in the central Henan Province, has recently built a giant depository to keep sacred texts, the Xinhua news agency reports. It is 6m (20ft) high and has 520 drawers - and is apparently capable of storing 10,000 documents for as much as 1,000 years.
The monks have asked applicants to send in a sample of their work - the Heart Sutra written in regular script with Chinese brush. Shi Yanzhi, one of the temple's grand masters, says: "The activity will not only preserve classic Buddhist literature, but also help people cultivate themselves in line with Buddhism doctrines."
Use #NewsfromElsewhere to stay up-to-date with our reports via Twitter.