Norway: Badger 'survives car grille ride'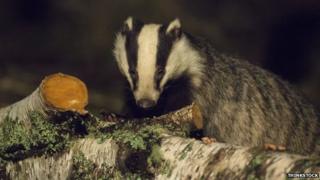 A badger that became wedged in a car grille after a collision in Norway has survived, apparently without serious injuries, it's claimed.
The driver was travelling at 80km/h (50mph) on a motorway in southern Norway when his car hit the animal in the early hours of the morning, the Norwegian edition of The Local reports. When the driver stopped, he discovered the animal wedged into the front grille of his car and tried to prise it out with a stick, only to notice that it was still alive.
"After four or five minutes, the animal went down the road," says 50-year-old Borgar Kristensen. "It was not badly injured." The incident apparently happened a year ago, but Kristensen says he only sent a photo of the badger to Norway's VG newspaper after reading about a similar incident in Britain involving a small deer.
In that incident the muntjac, which got stuck in the grille of a car in Potters Bar near London, also survived, the Daily Mail reports. The DeerAware website says there are as many as 74,000 deer-related traffic accidents in the UK each year.
Use #NewsfromElsewhere to stay up-to-date with our reports via Twitter.