Brazil: Man 'earns a living' from tattoo ads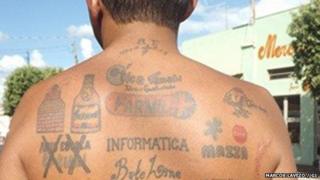 A Brazilian man who earns a living by selling space for tattoo adverts on his body is now looking for a customer for his forehead, it appears.
Edson Aparecido Borim already has 49 adverts tattooed on his chest, back and arms, the G1 news portal reports. He says it all started eight years ago with "a dare in a bar", but now the ads are his main source of income. "My goal now is to get a big company to tattoo my forehead, but it would have to be a good contract," he says.
He walks around bare-chested in the small town of Tabani in the state of Sao Paulo, but says he's not obliged to do so all the time. The Brazilian charges between 50 and 400 reals (£14-£110) a month for a tattoo, depending on its size and location on his body, and on the client. Borim says when clients do not pay or cancel an ad, he crosses them out.
"Skinvertising" caused a stir in the mid-2000s, when many dot.com companies experimented with it. The practice left behind a trail of ads for companies that do not exist any more, BuzzFeed reports.
Use #NewsfromElsewhere to stay up-to-date with our reports via Twitter.