Russia: Special Putin coins mark Crimea annexation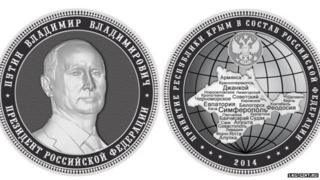 Commemorative coins bearing an image of Russian President Vladimir Putin are being minted at a Russian factory to mark the Kremlin's takeover of Crimea, it appears.
Putin's face is on one side of the 1kg (2.2lb) coin while the other shows a map of the Crimean Peninsula, Moscow daily Komsomolskaya Pravda reports. Factory director Vladimir Vasyuhin explains that by bringing the Crimean peninsula "back home", Putin had "demonstrated the qualities of a wise strategist and politician". In March, Russia formally took over control of Crimea from Ukraine, despite international sanctions.
The limited edition of 500 silver coins has been called The Gatherer of Russian Lands - a phrase traditionally associated with Ivan III - better known as Ivan the Great - who significantly expanded Russia's territories during his rule. The coins haven't been priced yet - some of them may be sold, although they won't be used as currency - and the factory says it is planning to present some of them to the Russian leadership.
This isn't the first time Putin has been featured on a coin, Russian website Snob.ru says. Ironically, in 2006 Ukraine launched a coin featuring the Russian president, marking 10 years of its national currency, the hryvnia. The coin was encrusted with precious stones and cost $500 (£300).
Use #NewsfromElsewhere to stay up-to-date with our reports via Twitter.