'Moroccan Jew' asks to join ruling Islamist party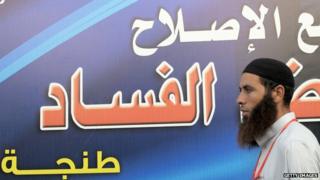 A Moroccan lawyer claiming to be Jewish is challenging the country's political establishment by asking to join an Islamist party, it is reported.
Isaac Charia says in a letter to Prime Minister Abdelilah Benkirane's Justice and Development Party (PJD) that he wants to know if Jews are welcome to join, adding that he hopes his request will not be seen as "a cynical act".
"The Islamic world has witnessed many fights in the name of religion in which many people were killed," Mr Charia tells Akhbar Al-Yaoum newspaper. "It's the time to stop mixing religion and politics, and struggle for real development."
He adds: "This is who I am. Will you accept me?" Mr Charia says he hasn't had any response so far, according to the Morocco World News website. There are an estimated 6,000 Jews in Morocco, a country of some 32.6 million.
The PJD took power in 2011 for the first time and is the first Islamist party to run Morocco, the Arab world's oldest monarchy. Mr Benkirane's coalition governs alongside conservative monarchists, liberals, socialists and former communists.
Use #NewsfromElsewhere to stay up-to-date with our reports via Twitter.