Turkmenistan: Late authoritarian ruler boosts vodka sales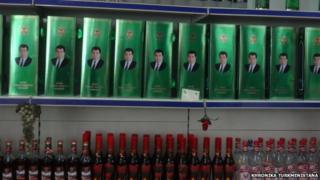 As Turkmenistan tries to dismantle the personality cult of its late authoritarian ruler, taking down monuments and updating school textbooks, a vodka bearing his name and image appears to be doing brisk business.
Apparently to capitalise on the demand, the name and face of former President Saparmyrat Niyazov - who gave himself the informal title Father of all Turkmen - is splashed across the new green package of a recently launched brand of vodka. It's called A Present from Turkmenbashi the Great.
At 152 manat ($53) a bottle the vodka isn't cheap but it's proved very popular, diaspora website Khronika Turkmenistana says. "It is probably because many Turkmens think life was better under Turkmenbashi," the website reports.
By the time of Niyazov's death in December 2006, he had built an eccentric personality cult in the impoverished and isolated Central Asian state. He renamed the month of January after himself and April after his mother, and schoolchildren were made to study the Ruhnama, a book that he penned.
Niyazov also banned ballet, gold teeth and recorded music. Statues of him were dotted around the country, including one made of gold which revolved to follow the sun. His successor, Gurbanguly Berdimuhamedov, has taken down many of the statues and the Ruhnama has been withdrawn from the school curriculum.
Use #NewsfromElsewhere to stay up-to-date with our reports via Twitter.