France: Sheikh restores and renames royal theatre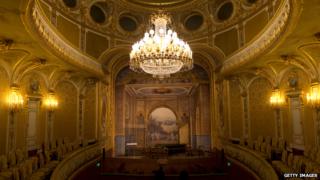 An ornate theatre in the famous French Palace of Fontainebleau has been restored after 150 years of disuse, and will be named after the ruler of Abu Dhabi who funded the project, it's been reported.
The 400-seat Sheikh Khalifa bin Zayed Al Nahyan Theatre, inaugurated on Wednesday, was first opened in 1857 by Emperor Napoleon III, to appease his Empress's fascination with Marie-Antionette and her theatre at Versailles. The theatre was hung with tapestries and a large chandelier, but it fell into disrepair - with the chandelier crashing to the ground in 1920. It was used by the Nazis to entertain officers during the occupation of France, but even they thought it too dangerous, and abandoned it in 1941.
It was only used about a dozen times before Napoleon III was deposed in 1870 and the theatre closed, France TV Info reports. "The trump card is that it has survived in this state after 150 years," the palace's president Jean-Francois Hebert told La Republique at the reopening ceremony.
Restoration work began seven years ago, and some further work is still needed before the theatre returns to full use. "It will accommodate plays and concerts, but under very restricted conditions, in small groups," Hebert said, noting that capacity has been halved for the time being.
The theatre is one of many buildings named after Abu Dhabi's ruler. The world's tallest building, the Burj Khalifa in Dubai, is named in his honour, as is a building at the University of Wales.
Use #NewsfromElsewhere to stay up-to-date with our reports via Twitter.