Iran: Naval drills 'build and blow up' replica US ships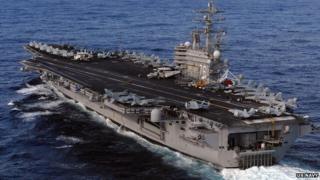 Iran has been building replicas of US warships for years - to practise blowing them up - a top Iranian admiral has reportedly said.
"We have been making and sinking replicas of US destroyers, frigates and warships for many years," says Navy Rear Admiral Ali Fadavi, commander of the Islamic Revolutionary Guards Corps, in an interview with Fars news agency. "We practise the same drills on replica aircraft carriers because sinking and destroying US warships has, is and will be on our agenda."
The admiral - whose forces patrol the Gulf and the Strait of Hormuz, a major oil shipping route - says the US relies on aircraft carriers for overseas aerial attacks, making them a natural target for Iranian forces. His troops now have a good understanding of the "design, construction and structure of the US warships", he says, adding that in the drills the replica vessels can sink in just 50 seconds.
Last month, CNN published satellite pictures that seemed to show a mock nuclear-powered Nimitz-class (CVN 68) aircraft carrier - the largest warship in the world - being built in Iran, along with fake US-style aircraft. The purpose of the replica was not clear at the time, and Iranian media reported the ship would be used on a film set. US officials said they did not believe Iran had the capability to build a real one.
Use #NewsfromElsewhere to stay up-to-date with our reports via Twitter.