South Africa: Poll ads turn candidates into pet-lovers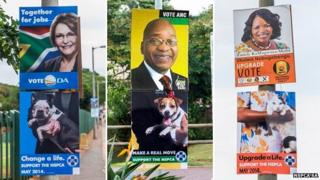 There's been a last-minute twist to election posters around Durban, South Africa, on the eve of a general election - the candidates are suddenly cuddling animals.
A second, perfectly matched image has appeared right below official election posters, transforming the advert to make it seem like the candidate is holding a cat or dog. It turns out the posters, which invite voters to Upgrade a Life or Make a Real Move, are part of a publicity campaign by the National Council of Societies for the Prevention of Cruelty to Animals (NSPCA).
Spokesperson Christine Kuch said they hired award-winning advertising agency The Hardy Boys to come up with a campaign in two weeks flat, and the posters were the result. "Elections are a time when South Africans reflect on important issues. Our aim is to remind voters that the welfare of all animals should be one of those issues," she says in a post on the NSPCA Facebook page.
The posters produced delight and some bemusement among Durbanites, and made a rapid appearance on social media. South Africa heads to the polls on Wednesday and the African National Congress (ANC), which has held power since the end of white-minority rule, is expected to win despite facing criticism in recent months.
Use #NewsfromElsewhere to stay up-to-date with our reports via Twitter.