Switzerland: Zurich rooftop foghorn to sound into 2015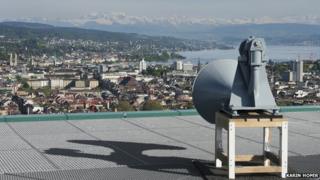 A powerful foghorn has been installed on the tallest building in Zurich as part of a maritime-themed art project, and will sound at irregular intervals well into 2015.
The horn was designed for container ships that are at least 200m (656ft) long, and it's apparently so loud it needed special permission from the Swiss "noise police", the Neue Zuercher Zeitung reports. It can be heard from 17km (10.6 miles) away and requires a 50m safety distance. The horn will be sounded on 10 May for the first time.
The horn is part of the Zurich Transit Maritim project, for which an old sea port crane has already been installed on the city's Limmatquai. Residents have reportedly had a mixed reaction to the crane. A Tages-Anzeiger blog post condemns it as a "monument to the triviality and intellectual poverty of today's culture industry". As for the horn, the Neue Zuercher Zeitung says it will sound "quite pleasant from a distance, more pleasant in any case than the night-time tolling of some bells."
Use #NewsfromElsewhere to stay up-to-date with our reports via Twitter.