Dubai: Pet taxi 'beats public transport ban'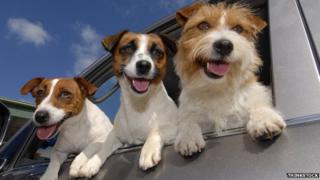 A pet taxi service in Dubai is proving a popular way of getting around a ban on animals travelling on public transport, it appears.
The British expat who launched the service in October says it all started when friends asked him to help take their pets to the vet or a day-care centre, the Gulf News reports. Arthur Obyrne says he has probably transported more than a hundred dogs in the last few months - and the most common trips are to vets, spas and day-care centres. But Obyrne also picks up from the airport, where people may be "stuck with their pets as the regular taxis won't take them."
The Angloinfo website says only service dogs accompanying passengers with special needs are allowed on Dubai's public transport network, and dogs are considered unclean in Islamic law. But the pet market in Dubai appears to be booming. In order to stem the illegal trade in pets, the Dubai authorities recently announced plans for a pet market where only "authorised" cats, dogs and birds will be available, the Gulf News reported in March.
Use #NewsfromElsewhere to stay up-to-date with our reports via Twitter.