Italy: Football 'needs Thatcher crackdown' on violence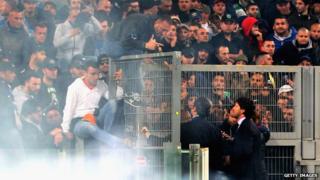 A top sports official has suggested Italy should follow Margaret Thatcher's example and crack down on football violence, after three people were shot at a cup final on Saturday.
Giovanni Malago, head of the Italian Olympic Committee, says: "Look at what Thatcher did with the hooligans... that's what's needed," the Gazetta del Sud newspaper reports. On Saturday, three fans were hurt - one seriously - hours ahead of the Coppa Italia final between Napoli and Fiorentina. With tensions running high, the match started 45 minutes late while an "ultra" fan talked to Napoli captain Marek Hamsik, apparently about whether to postpone the game.
Former British Prime Minister Margaret Thatcher introduced several measures to rein in football violence in the UK, the Italian insight blog says. Seats were installed in stadiums to prevent overcrowding, and a database was put together of people associated with causing disturbances. A controversial ID card scheme for football fans under the 1989 Football Spectator Act was eventually abandoned. Thatcher's legacy on hooliganism has stirred mixed opinions in the British press. The Guardian has said she was "clumsy", but the Daily Mail suggests she "rescued our game".
Use #NewsfromElsewhere to stay up-to-date with our reports via Twitter.