China: Guangzhou nightclub ban for 'greedy' officials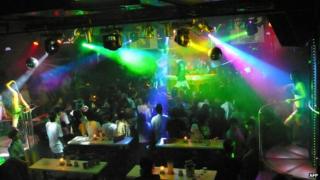 The latest chapter of China's anti-corruption crackdown has stirred debate, after officials in the country's third-largest city were banned from going to nightclubs.
Officials can't go to public places of entertainment, the new regulations say, including nightclubs and discos, the state-run China portal reports. The measures are part of a wider drive to end the "excesses of greedy officials", which has already seen a ban on using public money for "luxurious meals" and receiving "gifts, souvenirs and coupons" put into place.
But the latest move goes further than recent restrictions on entering some of Beijing's most exclusive clubs, and comes as officials in another city, Leishan, are banned from playing games such as mah-jongg - a popular pastime. "This shows the over-expansion of public power violating citizens' private rights," writes one person, Zhou Pengan, on the Weibo social network. Another user asks: "Will this simply drive the officials to enjoy all their luxury treatments in more secretive ways?"
In August, the Global Times said officials should be banned from nightclubs after four judges were accused of having solicited prostitutes. The leading Chinese paper acknowledged nightclubs had become popular, but warned of a "subtle connection" with soliciting prostitutes. An anti-corruption drive run by the ruling Communist Party has apparently led to 182,000 officials being punished in 2013, up 13% from 2012.
Use #NewsfromElsewhere to stay up-to-date with our reports via Twitter.