Saudi Arabia: Farmers flout Mers warning by kissing camels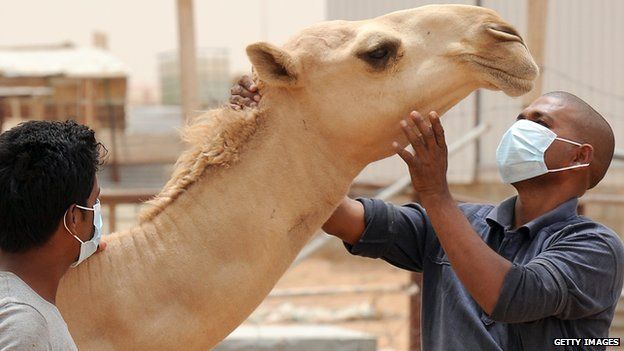 People are taking photos and videos of themselves kissing camels in defiance of a warning from Saudi health authorities not to go near the animals, which have been linked to the deadly Mers virus.
In recent days, Saudi Arabia has urged people to wear masks and gloves when dealing with camels, to stay away from raw camel meat and camel milk, and not to go near sick animals, the newspaper Gulf News reports. But some people have refused to listen to the government's advice, posting videos and sending messages in support of camels.
In one video, a man stands between a pair of camels and asks it to sneeze. "Look at me! Sneeze, sneeze! They say there's Corona in this," the man says, while hugging and kissing his two camels. Then he shakes one of the camels' heads and says, "She says no. Is there Corona in you? She says no."
Meanwhile, a Twitter user with the handle @fheed6666 - who has more than 90,000 followers - tweets to acting Saudi Health Minister Adel M Fakeih: "@adelmfakeih #the_campaign_against_camels_exposed And we call for it to stop or for evidence to be produced because camels are fine and all the ill people are in cities." An info-graphic circulating on Twitter suggests camels are more valuable than petrol.
Saudi Arabia is the country by far most affected by Mers, with 133 deaths since the virus was detected in 2012. Nearly 500 people in the kingdom have been infected.
Use #NewsfromElsewhere to stay up-to-date with our reports via Twitter.