Austria: Hitler's birthplace 'to become social centre'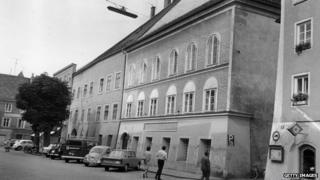 After two years of standing empty, the house where Adolf Hitler was born and spent his toddler years appears to be on the verge of being repurposed.
The stately yellow building, in the centre of the town of Braunau in Upper Austria, is owned by a retired local woman and has been rented to the Austrian Interior Ministry since the 1970s. After lengthy talks with the ministry and town officials it looks set to welcome migrants to Austria as a language school and integration centre, says Austrian daily Der Standard. The paper hopes it will be "a turning point in the interminable debate" on what to do with the historically important building with a dark past. An earlier idea about turning it into an anti-Nazi memorial has apparently been rejected.
The Volkshilfe NGO and an adult education college say they want to rent the premises - but only if the dilapidated building is given an extensive refurbishment. The old house has been through many incarnations since World War II. It's been a bank, a library, a technical secondary school and a workshop for the mentally handicapped, The Local website reports. The owner has apparently been given until this Friday to comment in writing on the plans.
Use #NewsfromElsewhere to stay up-to-date with our reports via Twitter.