Kazakhstan: Brutal killing ends first 'gay marriage'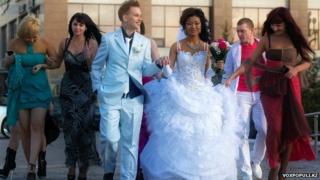 The marriage of a lesbian couple - who held a widely reported unofficial wedding in Kazakhstan last year - has ended in tragedy after one of the women was brutally killed and her partner detained on suspicion of murder, it is reported.
Kristina Chernysheva was known to have been missing at the end of March, police say, but was later found dead, the Tengri News website reports. Friends of the victim have suggested that her body was dismembered and burned, the Zakon.kz website says. Three women are being held in relation to the death, including the victim's partner, referred to only as Karolina.
In May 2013, the two women held a symbolic wedding in the city of Karaganda, and photos of the couple celebrating with their friends were widely covered on popular news websites, such as Vox Populi. Reports say they marked the day by travelling in a limousine and drinking champagne, and with cheers of "gorko" - a Russian invocation to kiss each other.
It was said to be the first same-sex union in a country that does not recognise gay marriage, and it received a mainly hostile response on social media. The pair was quoted as saying last year, "We too want to experience the full happiness of getting married."
Use #NewsfromElsewhere to stay up-to-date with our reports via Twitter.