India: Major newspaper 'omits headline' on election day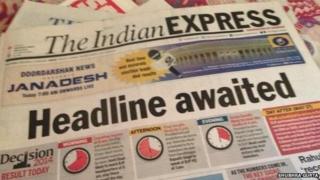 One of India's national daily newspapers seems to have grabbed attention with an unusual front page, on the day of the country's highly-anticipated election results.
The Indian Express headline on Friday 16 May says simply: "Headline awaited". The headline appears to have run in all eight of the newspaper's regional editions, leading some analysts to suggest it was not a mistake. ButIndians have taken to Twitter to comment on the surprise.
"Indian Express this morning. I declare it a winner already," tweets journalist Shubhra Gupta. Meanwhile, Rahul Fernandes of the Hindustan Times tweets: "This Indian Express headline is, by far, the best among today's newspapers." But Jon Williams, foreign editor for ABC News in the US, calls the Indian Express headline an "awful fail", adding, "Everyone else knew #Modi was going to win."
India's main opposition party, the Hindu nationalist Baharatiya Janata Party (BJP) led by Narendra Modi, was widely expected to win the general election. Other major Indian newspapers chose headlines alluding to a BJP victory. The Times of India went with: "Advani may agree to BJP's offer to become LS Speaker," while The Pioneer's front page said: "Modi wants veterans in Cabinet." The Deccan Herald, a major newspaper in the country's south, ran: "Modi chalks out game plan."
Use #NewsfromElsewhere to stay up-to-date with our reports via Twitter.