Germany: Berlin Ampelmann traffic icon seeks female match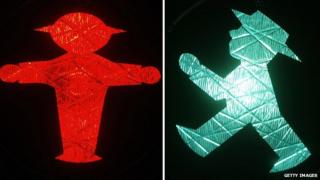 Politicians in Berlin's central district want to modernise pedestrian crossings by adding a female companion to the iconic Ampelmann traffic light, it's reported.
The Social Democrat party is asking for an Ampelfrau to be introduced, to represent the self-assurance of the modern-day woman, the German edition of The Local says.
"It's about equality," district SPD leader Martina Matischok says. "We don't want to replace the Ampelmann, we want to complete him." Matischok also thinks any female equivalent should not be sporting any stereotypically sexist attributes - such as pony tails, skirts or high heels.
Other countries have also experimented with alternatives to the walking man image. But the Ampelmann is considered by some to be a design classic and international cult phenomenon. Designed by Karl Peglau, it is seen as one of the positive symbols of Communist-era East Germany, and has been revived on all kinds of merchandise from coffee mugs to lamps.
Even in 1961, when the original Ampelmann was proposed, his appearance was a point of contention. The paper says Peglau's first ideas for a hairdo - a side-parting or curly mop - were rejected as too Hitler-like or stereotypically Bavarian. The final, much-loved image was inspired by a straw hat.
Use #NewsfromElsewhere to stay up-to-date with our reports via Twitter.