Iran: Divorce parties take off in major cities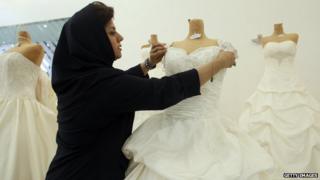 In Iranian cities a new kind of celebration - the divorce party - seems to be gaining popularity as more marriages meet a premature end.
The parties sometimes require extravagant preparations, complete with black roses and huge cakes, the conservative Jomhuri-ye Eslami newspaper reports. "You go to a florist to order a bouquet of black roses. Next you come to us to order invitation cards," one card shop owner tells the paper.
"I don't miss you at all," says one invitation, quoting the lyrics of a Persian pop hit. "I swear I will not fall in love again as long as I live. Even if I do, it's ok, as long as it's not with you," the lyrics continue inside the card. The demand for divorce cards has been going up over the past two years, another shop owner tells the Shahr-e Khabar news website.
Officials in the capital Tehran have recently expressed concern about the trend of celebrating divorce, the pro-government Iran newspaper says, and Ayatollah Makarem-Shirazi, one of the country's top conservative clerics, has spoken out over the issue. Last year, Iran saw a 4.6% rise in divorce cases, and a 4.4% decline in marriage rates. Nearly 20% of Iranian marriages now end in divorce.
Use #NewsfromElsewhere to stay up-to-date with our reports via Twitter.