Sweden: 'Hero' driver stops bus to comfort crying girl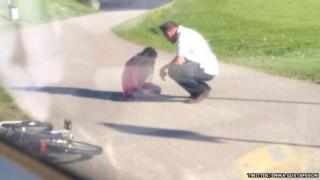 A driver who stopped his bus to comfort a young girl crying in the street is being hailed in Sweden, after a photo of his act went viral on the internet.
Andre Grandin interrupted the bus journey between Vara and Lidkoping in southern Sweden when he saw 10-year-old Emilia Behrendtz crying at the side of the road, the Expressen newspaper reports. After comforting the girl, witnesses say he climbed back on to the bus "without a word" and drove on. It later transpired that the girl had been upset by some other children.
"It came from nowhere," says passenger Emma Gustafsson of the moment when the bus stopped. "We didn't know what was going on. But then we saw that he walked up to a crying girl sitting on the road. It was really cute." Gustafsson took a photo of the incident, which she shared on Twitter. After four days it had been retweeted 4,600 times and marked as a "favourite" by 7,300 people, with a further 50,000 interactions on Facebook.
After he was tracked down by the Swedish press, the bus driver told Expressen it's in his nature to help when he sees someone crying or in pain. He was reunited with Emilia for a photo opportunity, and Grandin says strangers have sent flowers to his home. But he doesn't think his actions were anything out of the ordinary.
Use #NewsfromElsewhere to stay up-to-date with our reports via Twitter.